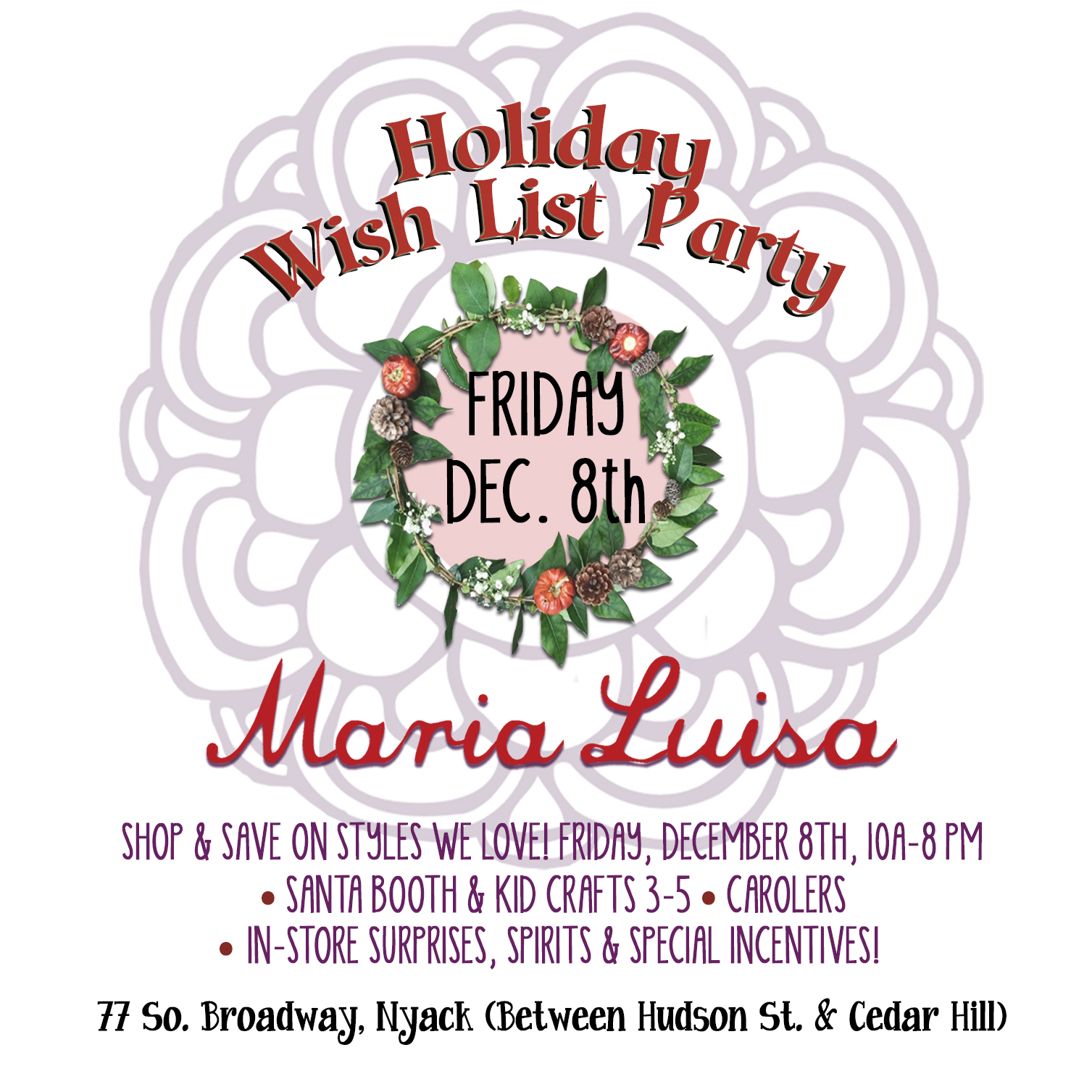 Maria Luisa Boutique and ML by Maria Luisa invite you to join us: 
OUR Annual
HOLIDAY 'WISH LIST' PARTY
Friday, Dec. 8
We will be celebrating the upcoming holiday season
all day long, from 10 a.m. to 8 p.m. 
What can you expect?
A full day of savings and celebrating!
We invite you to create your holiday "wish list" – see below for full details – as you shop and save.
We will offer savings of 30% on ALL purchases of $100 or more.
And, we invite you to join us for a holiday toast.
***
SPECIAL GUEST
We hear that Santa will be paying us a visit between 3 and 5 p.m.
Children of all ages are invited to bring their wish list for Santa
and take a photo or two in our holiday photo booth.
From 3 to 4 p.m., the little ones will also have the chance to
make a unique snowflake or snowperson to take home.
***
As the day goes on, you can continue to enjoy the special savings
– plus unadvertised specials – as you enjoy appetizers and spirits,
including Maria's famous "Coquito."
And please plan to stay a bit – if tradition holds true,
there may be some "dancing after dark…'
We hope to see you DECEMBER 8th.
Maria Luisa Whittingham and the Maria Luisa Team
***
AND FYI-
** How does the Wish List work?
We know, hints sometimes work but we want to make holiday shopping as easy as possible for your family and friends, so here's a recap of how our Wish List works:
You come in and do a bit of virtual shopping, selecting what you might like to receive for the holidays.
We create a list of your "favorites," then when anyone who might be shopping for you comes in, we gently direct them to your selections.
As we like to say, it makes it easier all the way around, as the person shopping for you is less stressed and you get exactly what you'd like…
The final step? Remembering to act surprised when you open your gifts!!
***
A few things to keep in mind:
Everything we feature can be included, from fashions to accessories, home goods to bath and body products - and everything in between.
We will offer 10% off all items on your Wish List to anyone who comes in and shops for you before Dec. 18.
And while one might think that was more than enough incentive to join us, there's even a little more – make a tax-deductible $50 contribution to the Rockland Community Foundation /ML by Maria Luisa Scholarship Fund (we'll be presenting our fourth annual award next spring) – and we'll include you in our holiday raffle.