This year we are celebrating our 30th anniversary in business, all of those years in the heart of Nyack's downtown.
It was back in 1987 when Maria Luisa Whittingham opened the doors to her first retail establishment, what was then a tiny 400-square-foot subterranean space in a Broadway building that was an antiques mall of sorts.
Over the years, her business – and commitment to the community – grew and grew.
 Today, she stands proud as the founder and sole proprietor of not only Maria Luisa Boutique but its sister shop, ML by Maria Luisa.
These South Broadway staples have become much more than "stores." Sure, Maria is proud that she has a loyal customer base that continues to seek out her handpicked selections – but is equally proud that this very same clientele supports her and joins in her work in the community. It might be the way they participate in a benefit shopping night, donate to the ML by Maria Luisa Scholarship Fund or take to the streets, literally, marching along with our team members for social and environmental causes.
Looking back, it's been most rewarding to recognize the continued growth, both physical (in moves to our present side-by-side shops) to more figurative, from our initiating our scholarship fund to our "Say No! To the Bag" campaign to our ML/GL Global Initiative, which continues to raise funds for a variety of local causes and organizations, including our scholarship.
A Special Year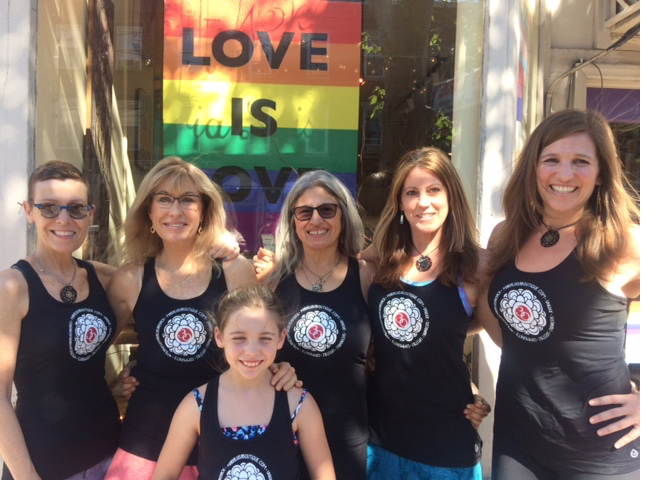 With our 30th anniversary year under way, there have already been highlights. On June 8, for example, we presented our third annual ML by Maria Luisa Scholarship to Melissa Denizard of Spring Valley High School, a National Honor Society member, activist and filmmaker. During this year's award celebration, Maria also announced that the guidelines for the program are being broadened to embrace applicants who identify as female.
In addition, we are proud to have gathered a team some 80-women strong – #MLFaves – to participate in the 30th annual Women's Distance Festival 5K Walk/Run. The July 8 event at Rockland Lake State Park in Congers was incredibly inspiring to all those there – the team raised some $1,500, an amount matched by Maria – to benefit the Center for Safety and Change, a nonprofit organization long supported by Maria and her business.
And, it was Maria's 60th birthday – so the singing, cake and balloons made it even more special.
But that's not all. Special events and promotions continue, with quite a lot on the autumn agenda. We've already kicked off our "30 Looks of 30 Years" promotion, putting the spotlight on the enduring quality of Maria Luisa's offerings.
Then, we've set OCT. 19 as our special anniversary day/celebration. Believe us when we say you'll want to save that date.
And October in Nyack also means one very special event. The Nyack Halloween Parade – and we all know what a huge Nyack, Rockland and metro-area event that is – is also marking its 30th annual edition. (Yes, 1987 was a very special year!) The Maria Luisa team and our friends in the community will make our second appearance in the holiday tradition this year scheduled for Oct. 28. We've got big plans for this, as well, so you wont' want to miss it – with preliminary details below.
The Bigger Picture
Events, sales, etc. – they're all part of our business, but they are just that, a part of our business. We also value the relationships, friendships in many cases, we have forged through our customers. And we also recognize our team members throughout the years, not only who contribute to our success on a daily basis but, we feel, also gain something tangible from working at Maria Luisa. Over the years, we have seen so many thrive here, developing their own outlook on teamwork, true customer service, the value of supporting local and artisan goods and Fair Trade principles and so much more. And have fun doing it.
Over time, we have all come together to host events ranging from poetry readings to book signings, art exhibitions to musical performances, events that stretched our minds and sometimes, our bodies.
We have kept up with the ever-changing, often-challenging face of retail, furthering our brand and philosophy through the latest social-media platforms.
There have been honors and recognition over the years, as well. Rewarding, to be sure.
But perhaps the best part of it all is hearing what Maria Luisa has meant to you, our loyal customers, so continue to share your thoughts.
Tell us what you think and know that we sincerely thank you for your unwavering support – since 1987.
***
And now, with the 30th anniversary celebrations about to kick into high gear, we welcome you to join us as we CELEBRATE with a number of special events.
We've offered a few highlights about what's planned. Read on – and continue to follow us on social media, through our quarterly newsletter and blog – or stop in and ask us what's next.
Events
Saturday, July 8th
July 2017 marked the 30th Annual Women's Distance Festival 5K Run/Walk, Maria Luisa's 30th year doing business in #nyack and July 8, the day of this 2017 event was also Maria Whittingham's 60th birthday! 30 + 30 = 60. Maria Whittingham / Maria Luisa Boutique contributed $25 for each of the registered #MLfaves@MariaLuisa runners/walkers and a over $3,000 dollars were raised as result of the Maria Luisa Team #MLFaves efforts!
Save the Date(s)
Thursday, October 19th - Maria Luisa 30th Anniversary Event - Details coming!
Saturday, October 28th - Nyack's Annual Halloween Parade
We are gearing up for Nyack's annual Halloween Parade, which this year will be held from 5 to 8 p.m. Oct. 28. And as part of the fun, we'd love to have you join our #MLfaves group – we're planning a creative way to send a message about the ongoing importance of "Reduce, Reuse, Recycle."
As you know, this year marks the 30th anniversary of Maria Luisa being in business – but guess what? It's also the 30th anniversary of Nyack's Halloween Parade, the biggest parade of its kind outside of New York City and its famed Greenwich Village event. To mark the anniversaries – and our participation – we are gathering all kinds of recyclable and non-recyclables to create some one-of-a-kind costumes. Think plastic, cardboard, foam, coffee-cup lids, plastic bottles and all kinds of packaging materials.
Here's how you, as an MLfave, can help:
• Join the MLfaves parade group.
• Help us collect materials – what others might call "garbage" – for our costumes.
• Create - or let us help you to create - your themed costume.
Keep in mind, we welcome children, who are encouraged to participate.
We are really excited about this event – and hope you are, too. Stay tuned for more details. But feel free to let us know now, can we count on your support?

Save
Save
Save
Save
Save
Save
Save
Save
Save
Save
Save
Save
Save