This year we are celebrating our 30th anniversary in business, all of those years in the heart of Nyack's downtown.
It was back in 1987 when Maria Luisa Whittingham opened the doors to her first retail establishment, what was then a tiny 400-square-foot subterranean space in a Broadway building that was an antiques mall of sorts.
Over the years, her business – and commitment to the community – grew and grew.
 Today, she stands proud as the founder and sole proprietor of not only Maria Luisa Boutique but its sister shop, ML by Maria Luisa.
These South Broadway staples have become much more than "stores." Sure, Maria is proud that she has a loyal customer base that continues to seek out her handpicked selections – but is equally proud that this very same clientele supports her and joins in her work in the community. It might be the way they participate in a benefit shopping night, donate to the ML by Maria Luisa Scholarship Fund or take to the streets, literally, marching along with our team members for social and environmental causes.
Looking back, it's been most rewarding to recognize the continued growth, both physical (in moves to our present side-by-side shops) to more figurative, from our initiating our scholarship fund to our "Say No! To the Bag" campaign to our ML/GL Global Initiative, which continues to raise funds for a variety of local causes and organizations, including our scholarship.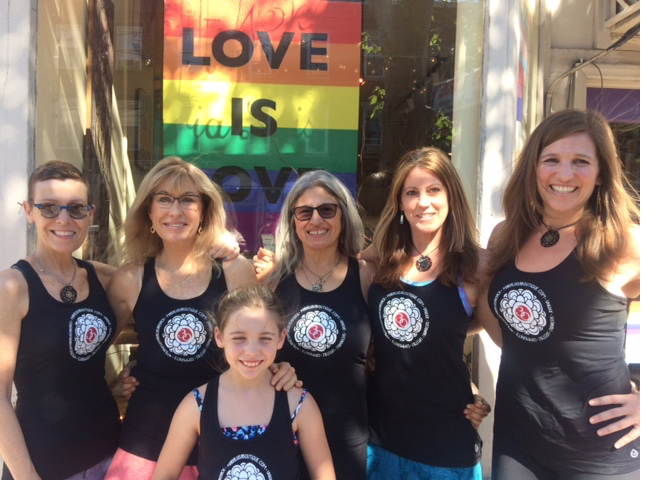 Maria Luisa Whittingham officially celebrates 30 years of brick-and-mortar business in Nyack this October — a testament to perseverance, business savvy and customer loyalty. READ MORE HERE.
The Bigger Picture
Events, sales, etc. – they're all part of our business, but they are just that, a part of our business. We also value the relationships, friendships in many cases, we have forged through our customers. And we also recognize our team members throughout the years, not only who contribute to our success on a daily basis but, we feel, also gain something tangible from working at Maria Luisa. Over the years, we have seen so many thrive here, developing their own outlook on teamwork, true customer service, the value of supporting local and artisan goods and Fair Trade principles and so much more. And have fun doing it.
Over time, we have all come together to host events ranging from poetry readings to book signings, art exhibitions to musical performances, events that stretched our minds and sometimes, our bodies.
We have kept up with the ever-changing, often-challenging face of retail, furthering our brand and philosophy through the latest social-media platforms.
There have been honors and recognition over the years, as well. Rewarding, to be sure.
But perhaps the best part of it all is hearing what Maria Luisa has meant to you, our loyal customers, so continue to share your thoughts.
Tell us what you think and know that we sincerely thank you for your unwavering support – since 1987.
***
And now, with the 30th anniversary celebrations about to kick into high gear, we welcome you to join us as we CELEBRATE with a number of special events.
We've offered a few highlights about what's planned. Read on – and continue to follow us on social media, through our quarterly newsletter and blog – or stop in and ask us what's next.
Events
30th Anniversary Celebration - Thursday, October 19th
Join us for a day of fun for the whole family as we Celebrate our 30th Anniversary!
30th Anniversary Trivia Contest

September 19th – October 18th a daily trivia question will be posted on Facebook about Maria, the store, or the Nyack Community. See full details and RULES HERE.
Save the Date(s)
Thursday, October 19th - Maria Luisa 30th Anniversary Event
Saturday, October 28th - Nyack's Annual Halloween Parade
We are gearing up for Nyack's annual Halloween Parade, which this year will be held from 5 to 8 p.m. Oct. 28. And as part of the fun, we'd love to have you join our #MLfaves group – we're planning a creative way to send a message about the ongoing importance of "Reduce, Reuse, Recycle."
As you know, this year marks the 30th anniversary of Maria Luisa being in business – but guess what? It's also the 30th anniversary of Nyack's Halloween Parade, the biggest parade of its kind outside of New York City and its famed Greenwich Village event. To mark the anniversaries – and our participation – we are gathering all kinds of recyclable and non-recyclables to create some one-of-a-kind costumes. Think plastic, cardboard, foam, coffee-cup lids, plastic bottles and all kinds of packaging materials.
Here's how you, as an MLfave, can help:
• Join the MLfaves parade group.
• Help us collect materials – what others might call "garbage" – for our costumes.
• Create - or let us help you to create - your themed costume.
Keep in mind, we welcome children, who are encouraged to participate.
We are really excited about this event – and hope you are, too. Stay tuned for more details. But feel free to let us know now, can we count on your support?
   

 
Save
Save
Save
Save
Save
Save
Save
Save
Save
Save
Save
Save
Save