About Maria Luisa Whittingham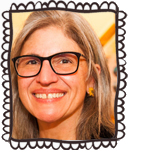 About Maria Luisa Whittingham
Most of us know the chic, friendly, and down-to-earth owner of Maria Luisa. And most of us would probably like to sit down for a cup of coffee with her and find out just how this wonderful shop got started, how she keeps her shelves stocked with such useful, beautiful, and wearable things, and where the shop is going next. So here's a virtual coffee-klatsch with Maria herself:
How would you describe what your store is all about?
Well, beauty is important to me, but beauty doesn't have to mean more than you can afford – nor does quality. I try to stay away from trends and fads, and focus on the forward-looking things that still have staying power.
Speaking of staying power, you've been in business for 30 years now! Why is your store so successful?
I wonder myself, sometimes, but it really comes down to a few simple things. Of course, there's the product. And part of it is endurance – sticking with it through thick and thin. But more than that, it's the people—the people who work here, the people who shop here. We've become a family.
Do you know all your customers? They all seem to know you!
They know they're welcome here. People feel comfortable in the store and stay a while. It's a warm environment. There is a lot of loyalty, but people don't and shouldn't just shop out of loyalty alone. We have many customers who have been shopping with us for over twenty years. They come back to see what's new, and I try to always anticipate what the customers will want. And really, the community tells you what they like.
Where did you grow up, and what brought you to Nyack?
I was born in the South Bronx, and at age three, I moved back to Puerto Rico. When I was ten, we moved back to the States, and I lived mostly in Queens, and then in East New York. That's how I got my street smarts.
So what did you do with those street smarts? They don't necessarily translate to a move to Rockland County.
No, that came a little later, when I was pregnant with my son. After college (I went to FIT and majored in Design) I was living in Brooklyn Heights, and working in the garment industry. I'm so glad now that I got all this experience in production. I worked for a company that did garment specs for production, and I met so many great people. We were doing samples for Putumayo, from India, and I still carry the line in my store. Another client was AK Studio (Anne Klein, that is). There was this great young designer, Narciso Rodriguez.
The guy who did Carolyn Bessette Kennedy's wedding dress?
Same one. He's one of the nicest guys. We got to be friends when he was working for AK Studio, and then went on to the CK Collection (Calvin Klein), and then for TSE. He was so supportive when I started the business – I carried his hand-painted T-shirts as some of my first merchandise.
How did you open the shop?
I started out in the mall next to the YMCA building, and then moved up to the ground floor, where Kashan Rug Gallery is now. I was selling original designs and accessories. My first clothing lines were Putumayo and April Cornell. Three years later, I moved into the South Broadway and Burd Street space. Then when the mall came in, carrying basics didn't make sense, and I made the move to specialty items. It's working!
What does the future hold for Maria Luisa?
No retirement plans yet! And I wouldn't want to. I have such great customers and employees. So I'll be around a bit longer.
More About Maria Luisa

Maria Luisa Whittingham and the store that shares her name have been Nyack institutions for more than 30 years, as central to the village as her South Broadway location. Being a business owner in Nyack means more than just tending the shop. As Whittingham has so clearly demonstrated, it means tending the community as well. She is well known for working together with other merchants to maintain each others' business health, frequently referring customers to neighboring stores.
It was a long journey to Nyack for Whittingham, who was born in the Bronx, raised in Puerto Rico until she was 10 and then relocated with her family to Queens. With a degree from the Fashion Institute of Technology and experience in the New York garment industry as a clothing designer and in production management, Whittingham opened Maria Luisa in 1987. It was a simple, 400-square-foot space downstairs, in the back, of the Nyack Antiques Mall building. Today, some 20 years and 1,100 square feet later, the Maria Luisa Boutique caters to a loyal local clientele while serving day-trippers and tourists alike. In 2007, Whittingham opened ML Gifts & Accessories, which has continued to grow as a fun and funky accessory shop, a satellite (and next-door neighbor) to the flagship boutique.
Today, she attributes her success to a combination of hard work and an appreciation for what she has and has achieved.  This attitude of appreciation and gratitude extends to the community that has long supported her. And her support of Nyack has been there from the start.
"I began working with other merchants at first… asking for participation in giving 10 percent of purchases to The Nyack Center for people who came in with coupons. That's how I began my community work involvement. But most of it began when my son, Christopher, was in high school, and I went to an NAACP meeting."
She credits Christopher with introducing her to both the organization and the legendary Mrs. Pratt. "That got me involved. Mrs. Pratt asked me if I would head a committee. She had this way of saying, 'Maria, could I put your name down to head a committee? It won't be very much work,' but before I knew it I was I head of the political action committee, chairing several events, going to Albany to lobby for the NAACP human rights agenda. That was just the beginning…" "The diversity of Nyack is one reason I love living here," Maria says. So she's doing her part to keep us aware, strong, and thriving as a community.
Just a small mention of her community efforts gives a glimpse into her dedication to a variety of causes and organizations. Today, Whittingham is an annual sponsor of the Hopper House and Friends of the Nyacks' Music in the Park summer concert series. She has been a member and served as treasurer for the Arts, Crafts and Antique Dealers Association and is a former board member of the Nyack Center.  She has been a Nyack chamber member since 1987 and a member of the Nyack NAACP since 2001 with positions, among many, including an ACTSO youth mentor for two years and a Nyack Youth Council advisor. She is also a current board member of the Rockland Country Day School.
Honors, not surprisingly, have come to Whittingham. In March 2008 she was named A Woman of Vision and Leadership for her community involvement by The Nyack Center. She is also a 2010 graduate of LEADERSHIP ROCKLAND, a 2011 "Friend of the Year" honoree of Friends of the Nyacks and a 2012 recipient of the annual RBWN Woman of the Year award by the Rockland Business Women's Network. She has also just been honored by the Center for Safety & Change, formerly the Rockland Family Shelter.In 2014 Maria Whittingham was named the 2014 Rockland County Entrepreneur and Community Activist of the Year at the annual Social Justice Day Luncheon.
Save
Save
Save
Save
Save
Save
Save
Save
Save
Save
Save
Save
Save
Save
Save
Save
Save
Save
Save
Save
Save
Save
Save
Save
Save
Save
Save
Save
Save
Save
Save