Community Links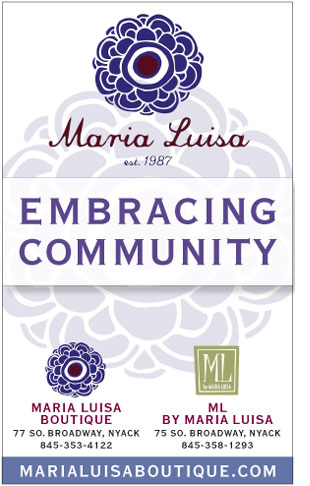 Maria Lends Her Expertise

Maria shares her story and her expertise - offering a hand to those just starting out or brainstorming with those at a crossroads. Click HERE to read more about scheduling a consultation, speaking engagement or workshop. 
Maria Luisa & MLGL Initiatives
Maria Luisa Gives Back - Click HERE to learn how 10% of select Maria Luisa & MLGL purchases benefit the community. 

Download an Application for the Maria Luisa Scholarship Fund. Please follow this link or click on the image below (and scroll down to ML by Maria Luisa Scholarship):

Say No to The BAG - Sign the Petition! Let's work together to make a difference.
ML Faves for Good
This year, Maria Luisa Whittingham marks the 30th anniversary of her doing business in Nyack, where today, she stands as the founder and sole proprietor of both Maria Luisa Boutique and ML by Maria Luisa. Events to celebrate the milestone are underway – all leading up to a formal event on Oct. 19 – but a very special event was recently held. It was on July 8 – a day that also happened to be Maria's birthday – that a team some 80-women strong gathered as the ML Faves and took part in the 30th Women's Distance Festival. The empowering run/walk attracted an estimated 1,100 female participants to Rockland Lake State Park in Congers to raise funds for the Center for Safety & Change, a local not-for-profit long supported by Maria and her business. The sense of camaraderie, the importance of the cause and the funds raised by the team have sparked yet another chapter in the Maria Luisa story – the formation of ML Faves For Good. Envisioned as a way to capitalize on the spirit of that special day, Maria is launching this effort as a concrete way to continue the drive to further help the local not-for-profit community. It's hoped that this latest effort will continue to draw on Maria Luisa's own loyal "community" – for both participation and support. Plans are just getting started for future events and efforts, so stay tuned. We'd love it if you like and follow the Facebook page for the group that's already been created. And, as always, we'd love to hear your feedback, especially your thoughts on worthy causes, events and anything else related to this newest way we can all join together and "do good."
Save
Save
Save
Save
Save
Save
Save
Save
Save
Save
Save
Save
Save
Save
Save
Save
Save
Save
Save
Save
Save